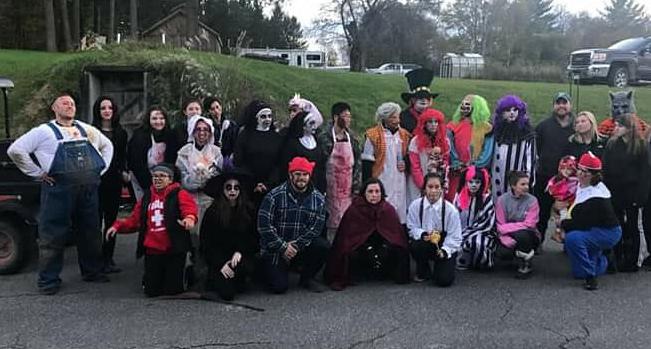 A Dalton company's first donation to a hallowed — and haunted — town tradition was simply the use of its land.
Then it was a $10,001 donation to the Berkshire Coalition for Suicide Prevention, after the town's Zoning Board of Appeals, after hearing from spooked neighbors, denied a special permit Tuesday for the Halloween-themed event known as "Purgatory Road."
On Friday, Allen Harris, the CEO and chief investment officer of Berkshire Money Management, gave another $10,001.
Harris said in an interview that he believes the ZBA made the wrong call. He decided to make things right, financially, for the coalition.
Over the eight fundraisers held since 2012 at a farm in Dalton, the coalition has raised an average of $21,800 a year. The gift from Berkshire Money Management gets the group almost to that without having to pay expenses associated with the event.
Betsy Nichols, the longtime host of the Purgatory Road fundraiser, could not be reached Friday for comment on the donations. Lee A. Watroba, a member of the coalition's board, said in a Facebook post that the organizers, along with the many young people who staff the event in costume and create the frights that people pay to experience, have made it "an amazing fundraiser for BCSP for all these years."
In 2017, Nichols and Joanne Farrell were recognized by the Massachusetts Coalition for Suicide Prevention for their Dalton event, long held at Nichols' Grey Goose Farm on Cleveland Road, first as a haunted hayride, then as a haunted cornfield maze. Since its creation, the Halloween event has raised about $180,000 to underwrite teen suicide-prevention efforts in Berkshire County.
The coalition formed in 2009 to provide people in the area with suicide-prevention resources, professional training, healing programs and general advocacy. According to the Centers for Disease Control and Prevention, suicide is the second-most-common cause of death for people ages 10 to 34. Berkshire County has one of the highest rates of suicide in Massachusetts, the state Department of Public Health says.
Making the move
This year, dusting off after a 2020 coronavirus pandemic cancellation, Purgatory Road organizers hoped to move to Berkshire Money Management's 26-acre home at 161 Main St., a former Crane family residence.
That plan collapsed Tuesday, when the company's neighbors opposed the requested special permit and the ZBA denied it. Since then, James Cervone, a neighbor who spoke against granting the permit, has said he also plans to help raise money for the coalition.
In a Facebook post, Nichols said the event simply ran into a zoning issue and indicated that Purgatory Road would be back next year.
Though other comments on the social media thread were critical of the neighborhood opposition, including of businesses run by Cervone, Nichols struck a different note.
"We do not support any negative actions. Our event is a positive one," she said.
And she observed that the debate before the ZBA has at least given the group a publicity boost.
"It has prompted discussions about suicide awareness which has always been our goal," she wrote.
Nichols noted that Cervone has agreed to hold a fundraiser.
"Both are helping us to reach our goal," she said of Cervone and Harris.
Harris said Friday he was disappointed by the ZBA's decision and said people have been coming forward to offer other possible locations.
"There's been a great outpouring," he said. "I've heard from a lot of people."
Harris said the Purgatory Road organizers approached his company after attending gatherings held outside on the property during the pandemic — events that included yoga instruction, concerts and movies shown on the lawn.
"We want to have more activities," he said. "Business for me is trying to uplift others around you."
Cervone submitted a letter to the ZBA, as an abutter at 95 Main St., saying he believed that the Halloween event, which was to take place over four evenings, would harm the character of the neighborhood and reduce property values.
"Nobody is denying that this is a great event for somebody, it's just not appropriate to put it in an R-1 zone, it's just as simple as that," he said, according to an iBerkshires story.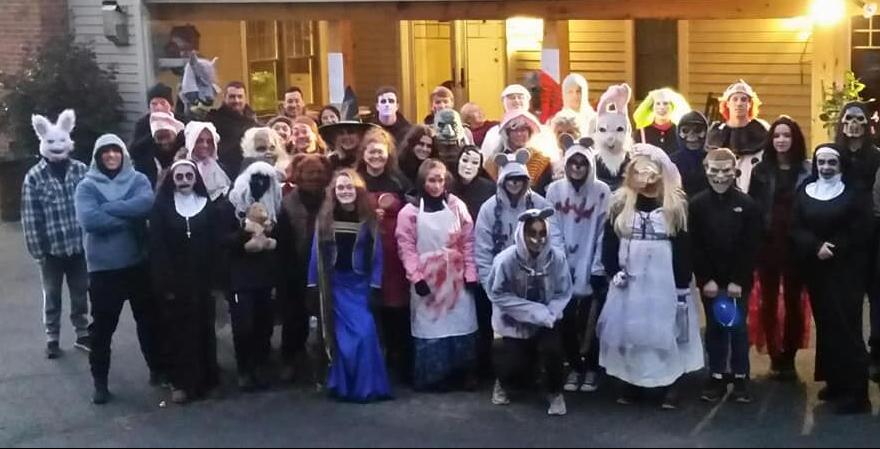 Another neighbor, Peter M. Koska, told the ZBA he thought the event would bring too many cars onto the company's property, even while granting that he, too, supported the coalition.
"I am all for the cause, I think it's a great cause," he reportedly said. "I have no issue with that; my problem is the amount of traffic that this is going to generate."
Koska lives across the road, at 152 Main St. He also expressed concern that Purgatory Road could attract "strangers from different towns that may not have the proper mindset and [would be] coming in to cause trouble. I'm not saying that would happen, but it's a possibility, especially with what I'm hearing from police officers in the Pittsfield area … there's a lot of gangs and things in Pittsfield that have come up recently, and they're getting closer and closer to Dalton."
When asked about that comment, Harris said he found the language "interesting." He said that before he moved his company to the former Crane property, it had hosted an event called Santa's Winter Wonderland.
"That didn't seem to affect anybody in a negative way," he said of that holiday event. And, he added, it didn't attract gangs.
The Berkshire coalition's partners include the American Foundation for Suicide Prevention, Arts in Recovery for Youth, the Berkshire Area Health Education Center, Berkshire Community College, Berkshire Medical Center, The Brien Center, the Massachusetts Coalition for Suicide Prevention, the Massachusetts Department of Public Health and the National Alliance on Mental Illness-Berkshire County.